Web developers are at the frontlines of the Internet age.
The websites we browse, the products we order, and the articles we read online are all made possible by the web developers who design, build and implement websites.
Just like websites, there are so many web developers out there and it's hard to decide who to partner with.
Luckily, here at Sarge Clan Creations, we are a corporate branding agency that promotes our clients' success by consistently developing unique branding, software, web, and content solutions to help your business grow.
By understanding your business goals, values, and strategies, we provide data-driven expertise to make your brand stand out in front of the right people in today's crowded marketplace.
With that said, we recently received our newest review on Clutch, from one of the branding and web design projects we recently completed.
For context, Clutch Co is a B2B ratings and reviews platform based in Washington, DC.
They evaluate technology service and solutions companies based on the quality of work, thought leadership, and client reviews.
A rapidly expanding startup, Clutch has become the go-to resource in the agency space.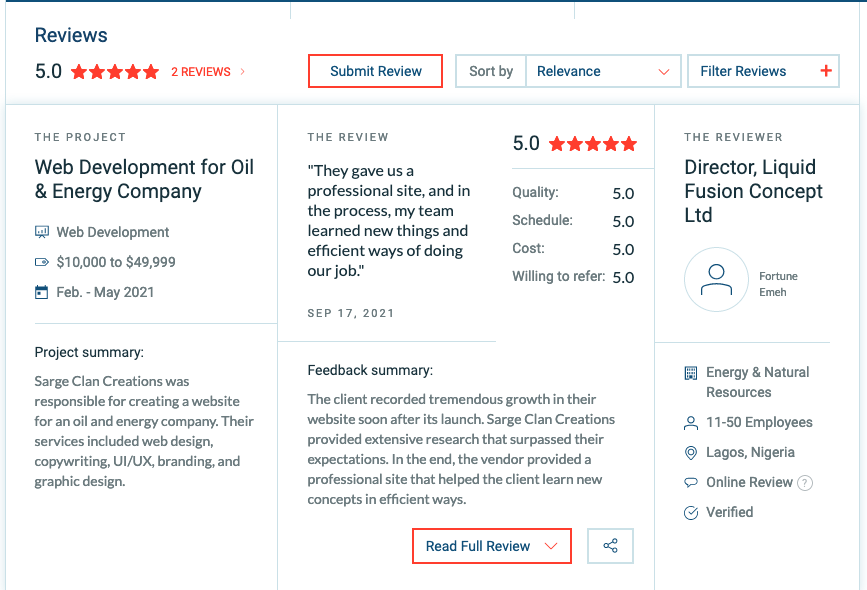 The client was launching their business and needed us to bring their brand to life.
We worked on their brand identity, website and some marketing material such as brochure and business card.
We ultimately delivered a professionally implemented project within stipulated timelines. The client recorded tremendous growth and onboarded new clients at an all-time high.
Not only we delivered a professional website, but the client's team learned new things and a more efficient way of doing business.
"Project management style was impeccable. They did extensive research to surpass our expectations and opened our eyes to new areas of interest. " – Director, Liquid Fusion Concept Ltd
Aside from this wonderful review, our projects are also displayed on Top Design Firms, a sister site to Clutch. Top Design Firms compiles and organizes companies offering marketing, design, and development services.
It aims to help buyers find the right company for their project.
It's always a pleasure to receive such positive feedback from our clients. Their success is our main motivation and will certainly push us to continue delivering top-notch services and working experiences. It never gets old seeing businesses succeed.
It's our duty to understand the challenges and goals of your company, formulate strategies that work, and align the best solutions for your business.
Send us a message today!