2019 is almost over and 2020 is nearly upon us.
Each new year gives us an opportunity to improve on our existing marketing strategy for the best results.
As we prepare for the new year, we are keeping a close eye on some trends which have over the previous years been seen to transform the marketing landscape.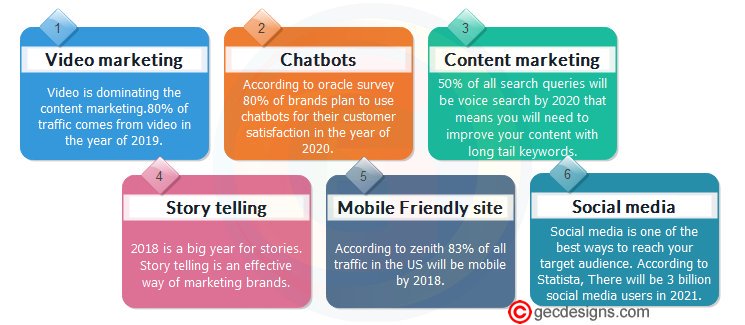 Marketing Trends Businesses Need To Adopt in 2020
To plan appropriately for the year ahead check out these trends and consider how to best incorporate them.
1. Story Telling and Copy Writing
Everyone loves and responds well to entertaining content that makes memorable impact.
Story telling can be used to shape your advertising.
Developing the right content based on your client's needs is a sure way to build trust with your audience and position your business as an industry expert.
We are seeing a trend of businesses in Nigeria using story driven content both company and user generated, to build a strong client base and to demonstrate the effectiveness of their products and services.
How will you be using this to improve your content? Tell us in the comment section.
2. Email Marketing
Email has been proven to be one of the best ways to reach your audience. Unlike social media, it's more personal.
Email gives you the opportunity to connect with your target audience virtually anytime, anywhere, and is highly measurable.
In 2020, cut through the clutter by delivering a more personalised experience to your audience via email.
From connecting to recipients by name, to providing email content based on their preferences and behavior, Martech Advisor anticipate that more businesses will maximize their email marketing investments by creating more sophisticated campaigns.
Will you be part of them?
3. SEO
The way business is done today has evolved from what it was a year ago.
Most people begin their online experience on a search engine and showing up on the first page of Google can be what makes or mars your online business.
Over 90% of online experiences begin with a search engine with 68% of them being on Google. Even more peculiar, the first 5 results get 67% of all clicks.
If your website doesn't show up on the first page then you are as good as not being online.
Focusing on your search engine optimisation and marketing is a great way to bring in thousands on traffic to your website monthly.
Did you know that most website we design get to page one of Google after a year?
That's right! We design our website with your target audience in mind so you can leverage on it 24/7. Email us now let's discuss how we can take your business to new levels.
4. Bots
So much to do, so little time, am I right?
Automation is a great way to help you save time and bots are one of the tools used for automation.
As of 2017, there were already more than 100,000 Facebook Messenger bots.
Bots are also taking over e-commerce websites and Twitter.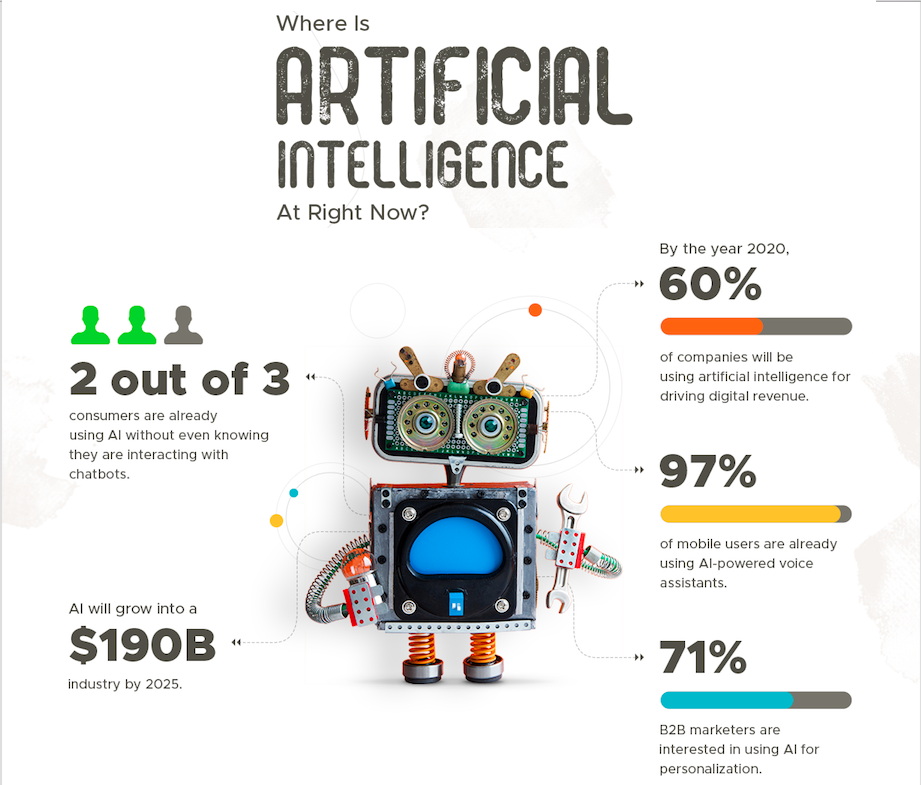 Sharpsprings predicts that chatbots will continue to increase in popularity and pick up the bulk of customer service work.
Bots are a key part of most companies' strategies to not only build their brand but personalize the buying experience.
Example, you can install a chat bot on your website which chats with users who visit. The bot asks as a human and answers all questions asked by the visitor.
Did you also know you can incorporate bots into your Facebook messenger and Instagram DMs.
Crazy right?
You and your employees don't have to bother about missing any chat or responding to messages too late.
As more social media platforms permit bots, it will become crucial to develop a marketing strategy that encompasses these different platforms.
In 2020, more of customer service, lead conversion, and social media advertising will be handled by bots of various types. This means it's good to start exploring ways you can use automation now.
Email us if you need help incorporating this into your marketing strategies.
5. Long Form Social Media Marketing
Ranking high on search engines is crucial to your marketing strategy, being on social media like Twitter and Facebook and incorporating email marketing is even better.
But an overlooked marketing strategy is tapping into long form social media platforms like Quora, Reddit, Medium and Nairaland.
Creating content for these platforms kill two birds by leveraging their audience and also making it's way to search engines like Google and Bing.
They are also a great way to get topic ideas for your blog and social media.
This helps establish your thought leadership and promotes a sense of community with your brand.
Using long-form social media marketing is a powerful source of organic traffic, as well as a way to diversify your content.
In 2020, content on these long-form, indexable social media sites will be a growing source of organic traffic. Your marketing strategy should include techniques such as posting answers on Quora or Reddit that direct people to your website and cross-posting your company blog on Medium.
Conclusion
In 2020, we'll see a variety of marketing trends that have one major thing in common: they're based upon convenience and personalization for our target audience. Whether we're reaching our leads and customers through computers, phones, and tablets, or home devices, we must prioritize their humanity.
That means being able to respond when they have questions, customizing our delivery of information to their needs, and solving problems in their lives.
Automation is a powerful means of streamlining this process.
Preparing for 2020 might seem like a lot of work, but it boils down to the first trend we discussed: What is your company's story, and how can you make it work for you?
By engaging with your customers as humans, you're much more likely to capture their attention and with care, their lifelong loyalty to your brand.
At Sarge, our primary goal is helping businesses achieve their marketing goals. Do you want to work with us?