Every minute is valuable when running a business.
Most business owners can relate to having to wear multiple hats to run their businesses.
But with so much on your plate and limited hours in the day, how do you make sure everything gets done – and done right?
Over the past decade, technology has helped businesses improve efficiency and automate day to day operations such as assigning tasks to employees, reporting, lead generation, hiring, communication and so much more.
The key is to first identify what processes need to be automated.
When you determine areas you want to scale, you can then implement strategies, processes, and tools that help your business run like a well-oiled machine.
Being efficient means, you can boost productivity and eliminate time-consuming administrative tasks.
The first rule of any technology used in a business is that automation applied to an efficient operation will magnify the efficiency. The second is that automation applied to an inefficient operation will magnify the inefficiency. – Bill Gates
With the help of a few tools and technologies, it's easier than ever to run your business with efficiency. And with operations under control and moving things along, you'll be able to spend more time focusing on running your business – and boosting your bottom line.
Why Is Automation Important In Running A Successful Business?
The future of running a successful business lies in automation.
As more firms adopt strategies and tools that simplify and improve business processes, relying on old fashioned business practices will leave your firm behind competitors.
Automation brings these specific benefits to the organization:
Saves time: some recurring tasks can now be executed faster with less effort.
Reduces error: there are tools available which reduce the amount of human involvement in order to increase accuracy in completion.
Higher employee satisfaction: with less time doing monotonous tasks, they can engage in more fulfilling higher quality work, reducing employee stress.
Streamlined collaboration: with automation, complex projects are made simpler because tools are available to improve collaboration across projects.
Improved customer satisfaction: the time saved with automation allows more time dedicated to satisfying your customers
7 Simple Tools To Improve The Way You Do Business in 2022
Two things are very crucial to the success of your business – management of tasks and the management of your team.
In a project, tasks usually follow a sequential order. If the progress of a task is not properly monitored, it will negatively affect the delivery time of the subsequent tasks. In some other cases, not efficiently organizing your tasks may result in backlogs.
Asana is a work management tool that helps you to seamlessly manage all the tasks, workflows and the team members involved in a project.
With this collaborative tool, you will easily know what's to be done and who has been assigned to undertake a particular task.
In a nutshell, Asana replaces your sticky notes, to-do lists, and work calendars with an interactive digital board that makes it easier to keep track of your employee's work and hold them accountable.
The use of Asana may seem daunting at first but there are many videos to walk you through and just like any tool, the more you use it, the better you get at using it.
A typical Asana board looks like this:
(Source: asana.com)
This is a business communication platform. That is, it brings you and the members of your team into one place for quick and easy passage of business related information.
Right now you may be wondering, "why do we need another communication tool when we have WhatsApp, email and Zoom?"
With slack, all the communications can be done on the app seamlessly.
You can send a quick chat, link and even share a file. You can also create a conversation thread for some members of your team in order to discuss an issue that is not of concern to everyone in your team.
This widely accepted tool enhances collaboration among team members as they can find specific messages faster for reference and response.
As you can see, WhatsApp and Gmail don't have these capabilities and we can guarantee that a switch to Slack could save you hours.
Best of all, it has plenty of shortcut keys for faster usage.
This is what it looks like using Slack:
(Source: theverge.com)
Google Workspace,  formerly called G Suite, is a tool that houses a number of web applications needed for business success.
The web applications contained in this tool include Calendar, Docs, Sheets, Slides, Forms, Sites, Meets, and Chats.
This versatile tool affords you the opportunity to:
Use a professional email
Access as much as 30GB of Google Drive storage per user which makes file sharing become more effective
Share calendars with others for easy planning of meetings
Message your team members via chats
Hold video meetings and so on.
One fascinating benefit of using Google Workspace is that all of the apps are available on mobile phones and tablets (iOS or Android), as well as Windows, Mac, or Linux computers.
Below is the dashboard: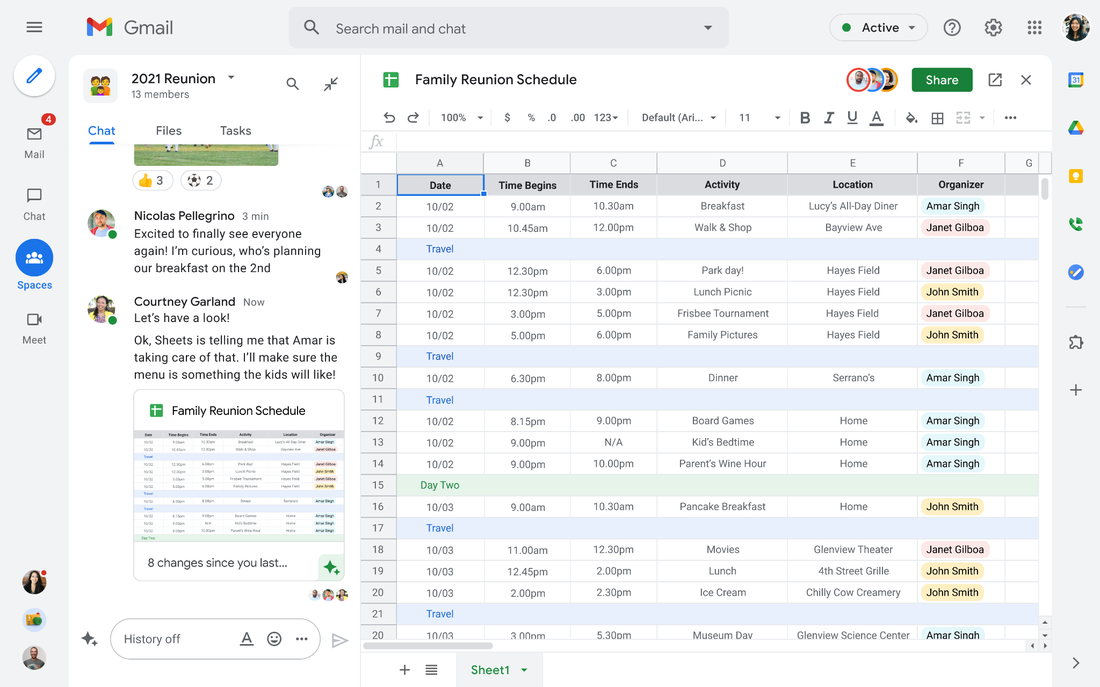 (Source: workspace.google.com)
This is a conversion optimization software for website.
If you are familiar with the concept of conversion optimization which is basically about improving the rate at which actions are taken on your website then you may already be using Google Analytics.
With Google Analytics, you can track different user experience issues by looking at key metrics like bounce rate and rectifying a problem like that will require spending time to figure out the exact element on your landing page that needs to be addressed.
For example, if your landing page records a bounce rate of 85% over a specific period of time, it means 85% of your website visitors ends up leaving without interacting with the page.
What does that mean?
Not only will your marketing budget be impacted, you have to spend more time experimenting with different page elements and testing for improvement.
Unfortunately, this is a lengthy trial and error process.
However, with Lucky Orange, you're sure of shrinking the time spent to discover errors. Not only that, the degree of accuracy is higher.
Lucky Orange employs the technology that allows you see what your users are doing when they land on your website live.
They also use heat maps to show you where users are clicking the most, giving an insight into how users interact with your website.
Here is what Lucky Orange looks like:
(Source: topwebsitevisitortracking.com)
Lucky Orange is an affordable tool and can quickly identify those elements on your page that requires attention.
As the name implies, MailChimp is an email marketing software that allows your business to market your product or service to your email subscribers.
Using an emailing software like MailChimp makes it easier to bulk send email to hundreds and thousands of people at once. It is better than using a traditional emailing platforms such as Gmail and Outlook which are not originally designed for sending out business emails.
MailChimp also allows you to schedule the sending of your emails. That is, after writing and designing the content of your email, you can set the time you want your email to go out and exactly at this time, the system sends your message to your subscribers.
In addition, with this tool you can automate your emails. This is different from scheduling your email in that you can instruct the system to send a specified email to a subscriber once a particular action is taken on your website.
For example, if you run an e-commerce website, once a customer completes a purchase, you can configure MailChimp to instantly email the details of the just completed order to the customer.
MailChimp is an optimal tool to scale your business because it provides you with insights that will help you develop a real relationship with your subscribers and also sell your product or service to them on a regular basis.
Find the image of the dashboard below:
(Source: pinterest.com)
With an average daily user of 1.61 billion people, Facebook has proven to be a huge opportunity for both SMEs and big corporations to reach more business territories and generate more sales.
Facebook ads manager is the interface for launching your ad campaigns and keeping track of their performance.
The marketing potential is enormous. If you are not currently utilizing Facebook Ads, we recommend this business tool because Facebook ads are:
Relatively inexpensive
Wide reaching
Targeted
(Source: blog.myleadsystempro.com)
(& other freelancing sites)
One of the key traits of a successful business owner is the ability to delegate.
Another key trait is resource management.
Outsourcing is a popular method to cut down on those tasks that would be better handled outside the organization.
It makes more sense for a small Italian pizzeria to outsource their website to a freelance web designer than to bring her onto their payroll.
For infrequent or one time tasks, sites like Upwork.com will broadcast the job to freelancers on your behalf and connect you to experts.
Using a job outsourcing platform like Upwork helps you to find a fit for your budget.
A larger promised budget will attract more experienced freelancers while a smaller pay will attract the less experienced ones.
(Source: upwork.com)
Taking advantage of these business tools will drastically improve your workflow and grow your business.
Some of these tools are used by Sarge Clan and they help us to be timely with our deliverables on a day to day basis.
If you want to know how Sarge Clan can grow your business then schedule a free, no obligation consultation on our website.
Thanks for reading!