Introduction to Brand Strategy
Have you come to the painful realization that your brand is not presented the way you want it to be?
Or maybe your current brand items do not represent who you are and what your business does?
That is probably because you haven't taken a step back and looked at the big picture.
You probably do not have a "Brand Strategy".
What is a Brand Strategy?
Your brand is more than your logo, name or slogan, it's the entire experience your prospects and customers have with your company, product or service.
To meet specific goals and targets of your business, You need a brand strategy.
Your brand strategy defines what you stand for, a promise you make, and the personality you convey. And while it includes your logo, colour palette and slogan, those are only creative elements that convey your brand. Instead, your brand lives in every day-to-day interaction you have with your market:
The images you convey
The messages you deliver on your website, proposals and campaigns
The way your employees interact with customers
A customer's opinion of you versus your competition
A well-defined and executed brand strategy affects all aspects of a business and is directly connected to consumer needs, emotions, and competitive environments
Below are Seven Essential Elements for a Strong Corporate Brand
7 Essentials for a Strong Corporate Brand
1. Purpose
A company whose employees can answer the question, "Why are we here?" will be the company that makes stronger connections with consumers.
The importance of building a brand on a purpose, not simply a promise, isn't just to help consumers understand what the brand stands for but, perhaps more critical, to help employees understand why "We are here."
According to Allen Adamson, it's not just making a promise that separates one brand from another but having a defining purpose.
Knowing why you wake up everyday and go to work really goes a long way to defining and maintaining your brand positioning.
How can you define your business' purpose?
According to Business Strategy Insider, purpose can be viewed in two ways:
Functional: This concept focuses on the evaluations of success in terms of immediate and commercial reasons — i.e. the purpose of the business is to make money.
Intentional: This concept focuses on success as it relates to the ability to make money and do good in the world.
Yes, making money is important, but who doesn't value a brand whose shows their willingness to achieve more than just profitability like Access Bank.
Their main goal is to facilitate and support financial sustainability throughout Nigeria
This approach is appealing to potential customers, as it demonstrates their commitment to providing value beyond the point of sale.
Next Steps 
When defining your business' purpose, keep this example in mind. While making money is a priority, operating under that notion alone does little to set your brand apart from others in your industry.
Dig a little deeper. If you need inspiration, check out the brands you admire, and see how they frame their mission and vision statements.
2. Consistency
There ought to be a difference between your brand and other brands; consistency is what brings out this difference.
Consistency deals with conveying of messages in accordance with the values of the brand you sell. A consistent way in presenting your brand is what makes people (consumers) to recognize your product easily and make you stand out amidst others.  The most important benefit of consistency is "brand recognition".
For example, if a brand logo is consistent in color and tone. As time passes, the visual elements becomes engraved in the minds of the audience. Because there's great consistency in the mode of presentation, customers become familiar with your brand.
Example, MTN is consistent with the colour yellow. MTN is one of the most recognizable brands in Nigeria, dare i say, Africa.
As a result of its commitment to consistency, every element of the brand's marketing works harmoniously together from their website to their instagram to their buildings and flyers. Their offline and online brand materials are always in sync.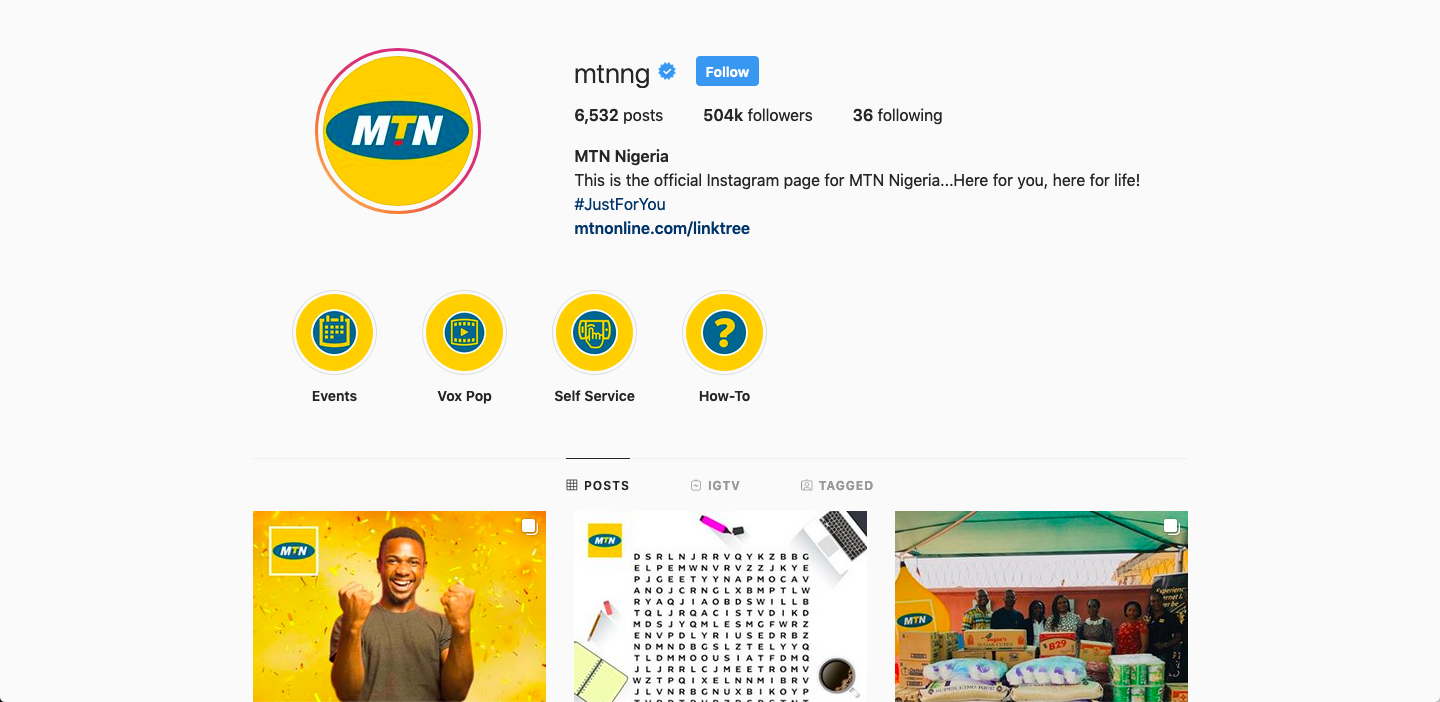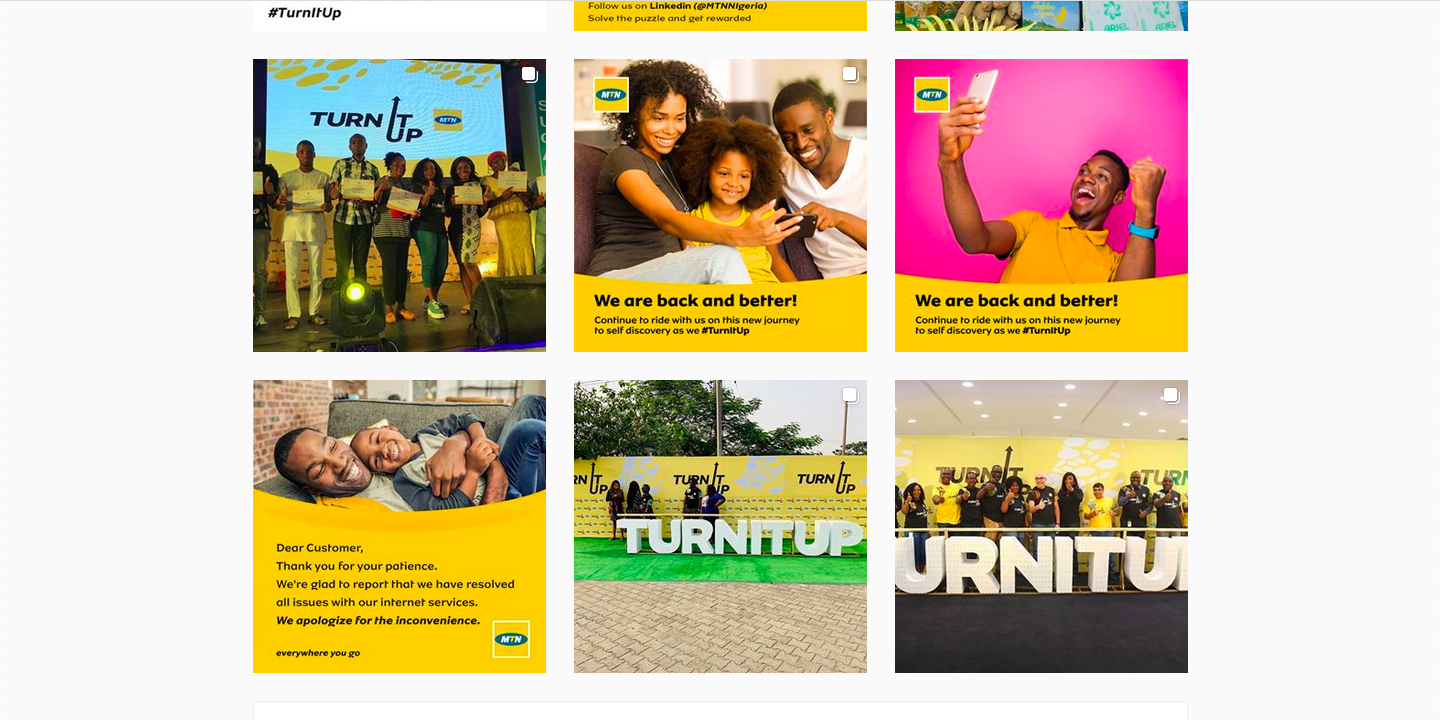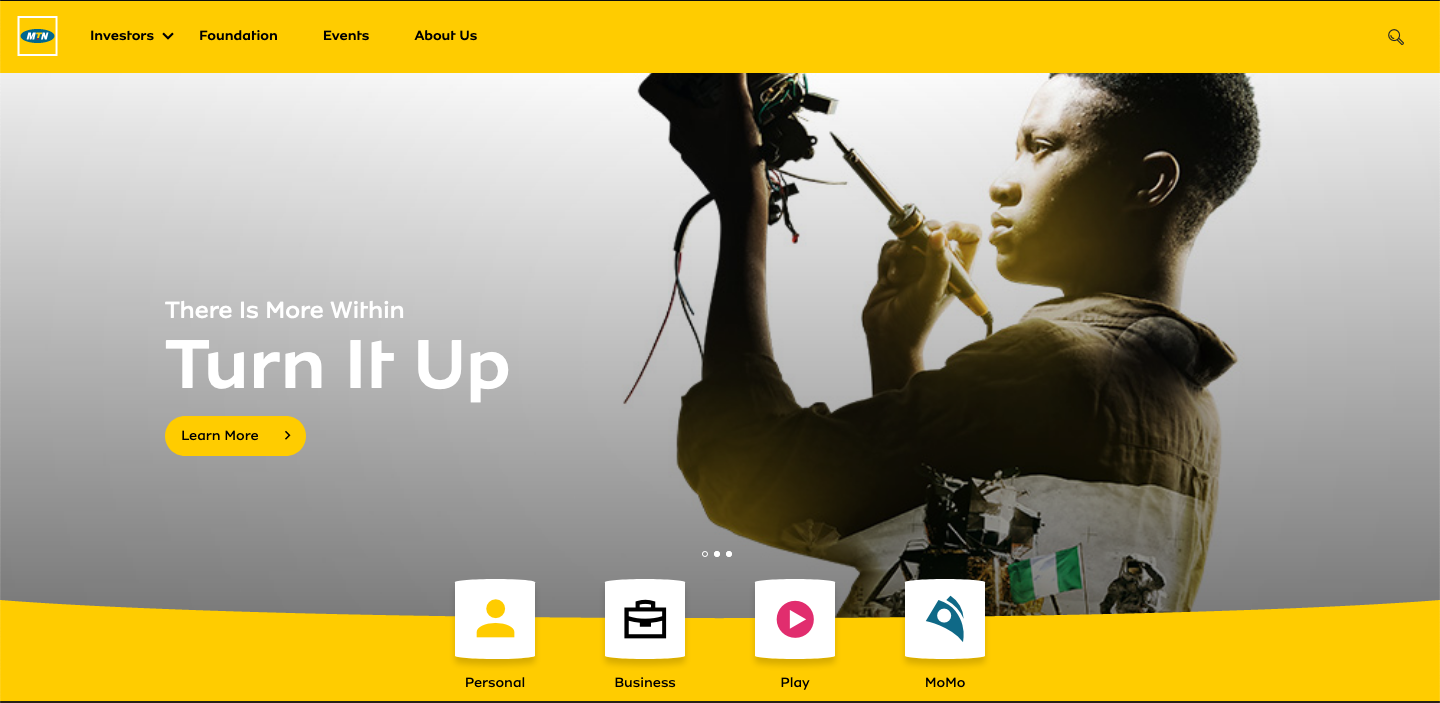 In summary, any time you present your brand  to your target market or general audience through any brand marketing facet, ensure strong harmony in whichever ways you choose.
3. Emotion
People are emotional.
It is important to connect with the emotions of your potential customers. Once this attention is caught, it becomes very easy to send messages about your products or services to them without fear.
Many successful brand uses emotional branding as a great tool in winning and retaining customers' loyalty.  Emotional branding is one of the most effective brand strategies in building a successful brand.
According to Wikipedia, connecting to the emotions of consumers have a great effect when the consumer experiences strong and lasting attachment to the brand comparable to a feeling of bonding.
For a brand to be successful there must be a strong bond between them and the consumers. Emotions play a significant and dominant role on the influence of brand experience and loyalty.
So think about your "products and services" and device possible emotional branding strategies to connect long-term with your expected customers.
People attach more value to things that connect to their emotions. Appealing to a consumer's emotional state, needs and aspirations, is what triggers an emotional response of  consumers.
You can see a trend of emotional branding with telecomms such as Airtel and Globacom. They use stories very relatable to their audience so they can connect better with us and it works. Think about how you can do that too.
Here are some examples of how brands have used emotional branding to convey strong emotions and produce vital results.
4. Flexibility
In this fast changing business world, with customer needs bringing about most of the speedy changes. To stay in business and build customer relationship especially as customers' loyalty is not fixed. You need to be flexible.
Viral solutions explains that consistency sets a high standard of quality and style for your brand, while flexibility allows you to remain nimble enough to make adjustments when necessary to continually maintain high levels of interest in your brand.
Even though you have defined your brand's purpose by consistent ways of presentation, you need to be flexible with handling customers requests, needs and expectations. Creating extra plans or strategies in case of shift if situation demands is valuable.
Sometimes this might mean adjusting a little bit on the vision of your company to satisfy your customers need and in return retain their loyalty.
Simply, flexibility means listening and considering requests of customers in order to build stronger customer relationships and loyalty.
5. Involve your Employees
Employees can directly influence on brand equity by making contributions to the brand through skills, behaviors and knowledge. Their involvement in branding is an essential tool in building a successful brand.
Employees need to understand that their behaviors have an impact on the brand, regardless of the position they occupy in the company.
In fact a brand strategy cannot be effective if the company neglects the employees. If your employees don't value or promote your brand then it is difficult for your customers to accept such brand.
Imagine someone working for a firm but doesn't use or promote the products/services of the company.
At Sarge, our employees are our biggest brand ambassadors because they are always carried along.
6. Rewarding Loyal Customers
Loyalty is an essential part of every brand strategy. If your brand has pulled lots of  customers, you need to appreciate them by rewarding them for their loyalty.
A famous writer wrote that loyalty is not earned in a day, but earned by the day. There are customers who have been with the brand from the start. Some of them have taken steps in promoting the brand in one way or the other and has helped in building good testimonials for the company.
Setting up reward programs for this loyal customers is a move the right path to encourage them to continue promoting your brand.
Even so much as giving consistent clients hampers and gift boxes during the holidays will go a long way in building their loyalty.
7. Stay in Competition
As you begin to build your brand, you need to be aware of your competitors. This awareness will awaken your senses to source for elements that will have greater influence over the market. Having this notion and putting them into your branding elements, will improve values of your brand.
Being highly knowledgeable about "what's in", "what's good", "what's working" and "what's new" in the market can be useful to improving your products/services.
Sometimes you might need to experiment with new ideas, learn from competitors and infuse the lessons into your brand in a unique way to command more patronage and remain relevant.
Finally, I am delighted and hope that the application of these strategies will help in building your brand and bringing your business's goals to life.
You don't have to aim for perfection in the early stages of your business journey. Instead allow your brand to evolve naturally over time and focus on providing massive value to your target audience.
A brand for a company is like a reputation for a person. You earn reputation by trying to do hard things well – Jeff Bezos